Mariella Jansen
Branschaktuellt Magazine: West Link aqueduct Korsvägen
MAGAZINE – Recently, the magazine Branschaktuellt was released, featuring the theme of the extensive Vastlanken railway project in Gothenburg. It's awesome that attention was also given to the West Link project!
Because how do you construct a railway tunnel under a flowing river without disrupting the river's current? The answer came in the form of a temporary aqueduct! For this article, @PerSöderström and @SandraRook were interviewed by @Branschaktuellt. You can read the English version below.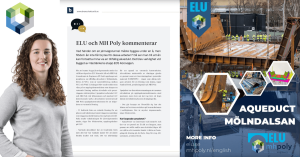 Aquaduct Mölndalsan: ELU en MH Poly reageren
What if a railway tunnel needs to be constructed under a river, but the flow of the river cannot be interrupted for these works? Then you ensure that the river continues to flow through a temporary aqueduct. This became  reality in the major Vastlanken railway project in Gothenburg at E05 Korsvagen.
A temporary aqueduct in the Molndalsan River had to provide the solution for building the railway tunnel under the river. It was a challenging task, but certainly not impossible. On behalf of NCC-W&F-West Link Contractors HB, Swedish and Dutch engineering firms ELU Construct and MH Poly Consultants & Engineers BV took on the challenge. ELU engineered the entire temporary aqueduct, and MH Poly engineered a bearing structure underneath the  aqueduct to seal is and  preventing any water from the river from leaking into the construction pit where the railway is being built.
Sandra Rook, project engineer at MH Poly, explained: "We needed to find a technical solution to position the aqueduct on the construction pit while allowing the walls to move back and forth during the excavation of the railway tunnel underneath." The aqueduct rests on a construction pit made of steel tube piles.
Typically, an aqueduct is connected to a building pit with welds and bolts, but this aqueduct should not transfer forces from the walls of the building pit. The solution required a loose support for the aqueduct while ensuring it remains watertight.
ELU and MH Poly combined efforts and worked closely together. Per Söderström, project manager at ELU, said: "Normal aqueducts have squared bottoms, but this one has round edges to evenly distribute forces and pressure, which is necessary to ensure everything remains watertight." The aqueduct is supported all around by seals made of an infinitely recyclable synthetic material (UHMWPE) and rubber seals.
Rook added: "This material has never been used before for a solution like this, carrying the aqueduct and prevent water leakage. Many tests were conducted in collaboration with Trelleborg throughout the process to test its strength and functioning."
By the end of 2022 and the beginning of 2023, both abutments were placed on the steel tube pile walls. The biggest challenge was fitting the aqueduct trough onto the abutments with precision. Although it took over a day, the trough was successfully placed using a large crane with an accuracy of a few centimeters.
Söderström reflected: "It is very impressive to see everything come together in real life. It all started as a computer design, and you can't imagine how it feels to witness the size in real life." Rook agreed, stating: "Indeed, the structures are always bigger than expected."
The collaboration was interesting and intensive since the aqueduct and loose sliding support had never been designed or created before. In addition to thinking outside the box to find a technical solution, it was a puzzle to make everything work, considering the involvement of different companies from Denmark, the Netherlands, Germany, and Sweden. Each with their own specialties. Rook: "Step by step, by asking simple but critical questions to ourselves and each other, we were able to find a successful solution for it all. Together."
If you can read Swedish, check out the article here: https://issuu.com/branschaktuelltsverigeab/docs/arets_projekt_2023_issuu/66
If you want to read the project reference: Watertight structure Mölndalsån – E05 Korsvägen – MH Poly Consultants & Engineers
Als je de projectreferentie in het Nederlands wil lezen, klik dan hier: Waterdichte constructie Mölndalsån – E05 Korsvägen – MH Poly Consultants & Engineers