---
Mariella Jansen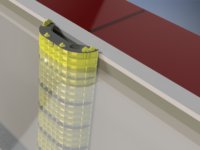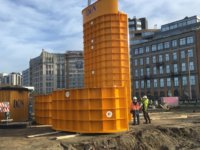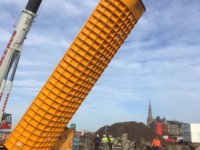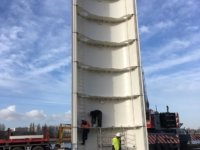 Cofferdam that connects to the existing quay wall in the Scheldt (Antwerp, Belgium)
Project
Commissioned by DCN Diving BV, MH Poly made the design of a cofferdam. The cofferdam ensures that divers can carry out repairs on the quay wall in a safe environment.
Project description
The quay wall in the Scheldt in Antwerp had subsided over the years and needed to be renovated. Because the currents in the Scheldt are relatively high and proved challenging for divers to carry out works on the quay wall, a cofferdam solution was sought to provide a safe and dry working environment. MH Poly had been asked to make the design of the cofferdam. The cofferdam consists of a flexible system of seven separate parts, which can be adjusted to the height and uneven surface of the quay wall face.
Project activities
Preliminary design and concept development based on the design base
Basic and detail design calculations of the cofferdam structure including the lifting points
Drawings:

Plan overviews;
Construction details and cross-sections;
3D-models.

Reports: Design basis and calculation report
Results
A design had been made for a cofferdam that connects to the existing quay wall in the Scheldt. The design takes into account unevenness of the quay caused by the subsidence. Furthermore, the connection of the cofferdam to the quay had been worked out in detail and the method of dewatering the cofferdam had also been worked out.
A practical and efficient system had also been devised whereby the cofferdam can be moved in the water to the adjacent joint.
Total height: 14 meter
Width: 4,4 meter
Depth: 1,4 meter
Dry pumping height: 13,5 meter
Weight: 35 ton
Download project